Day Eleven
Grand Forks, ND to Duluth, MT
June 19th, 2000

---
High Point of the Day....

Low Point of the Day......

Brian- Finding five bands of digital just in time for a phone interview
Theresa- The big fish!

Theresa learns to drive in wind shear
Miles Traveled Today

Total Miles Traveled

Miles Theresa Drove

Weather

597

3595

92
(194 total)

cloudy- very warm

Price of Gas
(average per gallon)

Wildlife

Night's Lodging

Where this Page was Uploaded

$1.77

Cows, horses

Bob and Mary Jo's
Duluth, MN

Bob and Mary Jo's
Duluth, MN
Daily Narrative The day began bright and early at 10:00am to the pleasant hum of a lawn mower nearly grazing the side of the bus. We did a little grocery shopping in Grand Forks, visited AAA for an armload of campbooks, and headed off for Duluth, MN to visit old family friends and do a little repair work on the Volkswagen. Western Minnesota looks a lot like eastern Montana and all of North Dakota, flat and straight. By the time we hit Bemidji, however, things were perking up with hints of trees all around. We found a hilltop in Bemidji with good cell phone reception and stopped for Brian's telephone interview (for a position in the Anchorage School District Instructional Technology Department). Theresa pretended to read during the interview and giggled to herself as Brian pontificated and used all of the big words he knew. The folks on the other end of the line responded with intermittent laughter and silence, which Brian has decided means they both had a good time and got a little rest. The day got better and better the closer we got to Duluth, first with the appearance of real forests and then with the discovery of the "Big Fish". We pulled into Duluth early in the evening and enjoyed visiting with old family friends, Bob and Mary Jo. Bob, who just got his first computer in November, gave Brian an impressive lesson on the ins and outs of Ebay. We called it a day parked next to the old barn.
---
Daily Pictures
| | |
| --- | --- |
| | |
| Morning in Grand Forks, you just missed the kid mowing the lawn next to the bus... | Minnesota welcomes us |
| | |
| Years ago they planted windbreaks in this part of the country that have now grown into little personal forests... | Pretty cool, we say |
| | |
| A very pretty '73 bug stopped by to say "Howdy" in Crookson | We pause in Bemidji for Brian's phone interview, looks pretty corporate doesn't he? |
| | |
| Brian pontificates about the power of networking | Brian listens thoughtfully to responses |
| | |
| It's a BIG FISH! | Help us, before it's too late!!! |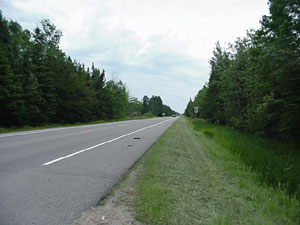 The road may still be straight in Minnesota, but those are trees!
---
Back To Road Trip Main Page