Day Forty-one
Mims, FL to Key West, FL
July 18th, 2000
---
High Point of the Day....

Low Point of the Day......

Brian- Getting half way home!
Theresa- Discovering the wide variety of palm trees grown in Florida!

Can't they do something about the humidity here?
Miles Traveled Today

Total Miles Traveled

Miles Theresa Drove

Weather

386

10,208

132
(2153 total)

humid and hot and in the 90's

Price of Gas
(average per gallon)

Wildlife

Night's Lodging

Where this Page was Uploaded

$1.63

cool birds, small lizards

The Santa Maria Motel
Key West, Florida!

New Orleans East KOA
Slidell, LA
Daily Narrative An ugly day of primarily interstate driving, topped of with a nice dose of island driving at the end. The end result leaves us as far away from Anchorage as we can get in the continental U.S., 10,208 miles of driving from where when we started. In the "cup half full" mood that Brian is in, it also puts us half-way home. We rose early, did some laundry and web page catch-up and eventually got around to making the bus move. We push started it, after numerous attempts and the pushing help of the octogenarian that mowed the lawns in the Cape Kennedy KOA. This was a very unpleasant process in this humidity. We reluctantly left Mims and our air conditioned Kozy Kamping Kabin mid-morning and opted for I-95 and then the Florida Turnpike to get to the Florida Keys. The freeway driving was fast, furious and competitive and left the bus a little dizzy. Lacking for anything of real interest to photograph, Theresa began a survey of Turnpike palm tree varieties. As we neared the transition from freeway to the single lane highway that continued out to the Keys, Brian spotted a NAPA off of the Turnpike in southwest Miami. We peeled off at the next off ramp and began a futile search for the NAPA, in order to buy a new starter for on board mechanic Ken to install in Key West. The failed process did, however, lead us to stumble across (get this) Ken's VW Repair. Taking this as an omen, and having no other real options, we pulled in and inquired about a starter. This Ken could get a Bosch starter and would install it Friday, on our way back out of the Keys, for a reasonable fee. Life being good, we headed down through Florida City and on to Key Largo where we stopped for an ATM and snack. This is where we lost reverse gear. Are you keeping track? No starter, no reverse, fuel issues. Third gear was also becoming hard to find. 10,208 miles from home. This launched Theresa into a hysterical monologue about the wisdom of relying on a vehicle of the bus' age to carry you around the country. Her analogies to human frailties with age were impressive and accurate. Her sense of humor was surprisingly intact. Brian loves his wife very much. We drove on to the end of the Keys, Key West, and celebrated the half way point of our journey by securing the cheapest motel room we could find ($59 a night at the 1950's art deco Santa Maria Motel) in the historic district. After a late night dip in the pool, we cuddled by the air conditioner and the cable TV for the night.
---
Daily Pictures
| | |
| --- | --- |
| | |
| Morning outside of our air-conditioned Kozy Kamping Kabin. This was the third picture, the humidity was fogging the lens faster than I could shoot | An amazingly green lake near Miami. We suspect bad chemicals |
| | |
| Tall, thin palm trees | Short bushy palm trees |
| | |
| Newly planted palm trees in a row | A gang of short bushy palm trees |
| | |
| Theresa, maneuvering the bus down the narrow Florida Keys | Brian, entertaining himself |
| | |
| A piece of the "Seven Mile Bridge", close to the Key West end of the bridge | In between towns, the Keys seemed a lot like the Outer Banks of North Carolina |
| | |
| The old bridge between the Keys still stands | Although it is broken in places to keep folks from being tempted to use it... |
| | |
| A small community, on a teeny Key, accessible only via the old bridge | A beautiful sky, nearing Key West |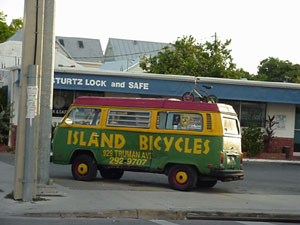 Key West, halfway home!
---
Back To Road Trip Main Page