Day Forty-three
Key West, FL to Punta Gorda, FL
July 21st, 2000
---
High Point of the Day....

Low Point of the Day......

Brian- Spotting a Gator!
Theresa- Getting into an air conditioned cabin

Will it ever cool down here?
Miles Traveled Today

Total Miles Traveled

Miles Theresa Drove

Weather

366

10574

23
(2176 total)

hazy, hot and humid
(quoting the weather guy)

Price of Gas
(average per gallon)

Wildlife

Night's Lodging

Where this Page was Uploaded

$1.69

seven gators, lots of really cool birds, tons of weird fish, cows under palm trees

Water's Edge Campground
Punta Gorda, FL

New Orleans East KOA
Slidell, LA
Daily Narrative Today began way too early in order to keep an appointment with Ken to have our starter replaced. We got up at 5:30 and were push starting the bus by 6:00. It took six (which had been Theresa's original estimate, by the way) attempts to get it under way, that and more sweat than Brian knew he had stored up. The three and a half hour drive back up the Keys was beautiful and tranquil early in the morning and we found Ken's VW repair (after a number of wrong turns and some cell phone triangulation) by 11:00. While we ate brunch, Ken remedied both the shifting issue and the starting issue, and by 1:00 we were back on our way. We headed directly west, through the upper end of the Everglades National Park and through a lower portion of the Big Cypress National Preserve. The road was actually pretty uneventful, except for a thin canal that ran along side the very straight road it's entire length. In this canal were an awesome variety of birds and fish, and Brian spotted a half a dozen gators! Wading in deep enough to get the picture below seemed a little risky, but, for those watching on, we figured it was the least we could do. We stopped at the small town of Naples for some gas and noticed the bus' battery light was flickering on and off. A few miles later, Theresa masterfully handled the bus quitting in mid traffic stream. With the help of "the guy that drives the big Coors truck", we pushed the bus to the Goodwrench parking lot and "on board" mechanic Ken crawled underneath and reconnected the wire that "off board" mechanic Ken had not. Fifteen minutes later we were back on the road discussing earnestly the difference between "breaking down" and "being in need of repair". Having had a long day that began too early, we found another air conditioned Kozy Kamping Kabin at the Water's Edge Campground in Punta Gorda, got a bite to eat and pledged not to leave the cool confines of our cabin until check out tomorrow.
---
Daily Pictures
| | |
| --- | --- |
| | |
| Morning outside of the Santa Maria Motel, the bus waits for Brian and Theresa to get ready | Looking back at one of the Keys |
| | |
| More of that stilt stuff | Our traveling companions, "Hula Gal" our tropical dancer and "Mistregipht" our parrot |
| | |
| And then suddenly, two excellent examples of large fiberglas sculptures that we had missed on the way in. First, the docile dolphins... | ...and, second, the menacing lobster |
| | |
| Through the northern edge of the Everglades and the Big Cypress Swamp, this canal that bordered the road was full of wildlife, including... | Gators! |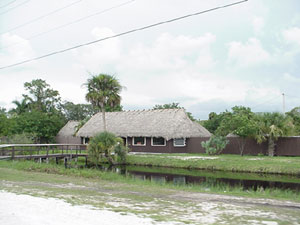 Every once in a while a road sign would proclaim "Indian Village" and a group of thatched huts would show up
---
Back To Road Trip Main Page