Day Thirteen
Duluth, MT to Ironwood, MI
June 21th, 2000

---
High Point of the Day....

Low Point of the Day......

Brian- Buying a real burger for $3.00
Theresa- Finding real beaches on Lake Superior

Theresa believing we were about to be blown off the Duluth bridge...
Miles Traveled Today

Total Miles Traveled

Miles Theresa Drove

Weather

205

4113

0
(194 total)

rainy and very windy!

Price of Gas
(average per gallon)

Wildlife

Night's Lodging

Where this Page was Uploaded

$1.85

more cows!

Curry City Park & Campground
Ironwood, MI

Comfort Inn
Ironwood, MI
Daily Narrative Acclimated to the new time zone, and having set the clock wrong, we were up at 7:30 and off to SuperOne Foods (Theresa believes a good ad line would be "It's Super!") to restock the pantry and fridge. We returned to Bob and Mary Jo's and Ken changed the oil and checked the bus' timing. We talked Bob into pulling his restored 1934 Ford Coupe out of his garage for us to snap a few photos. This is a beautiful car, meticulously restored by Bob from the frame to the upholstery. It has been on the cover of Hot Rod magazine and has won a pile of car show trophies. Over a cup of coffee, Bob helped us plan our drive around Lake Superior and we were off. We first drove through downtown Duluth's waterfront, and out to Minnesota Point where we found our first beach on the trip. Duluth is a very pretty city, which reminded us of Portland, OR. We drove back through Duluth and on into Wisconsin, following the scenic south shore of Lake Superior to Ashland. We were pleasantly surprised at how pretty this part of the country is and Theresa would like to take all of the quaint old homes back to Anchorage with us. The day's end came in Ironwood, Michigan, after the accidental discovery of a 52 foot fiberglass Hiawatha. Figuring nothing could top that, we got some dinner and called it a day.
---
Daily Pictures
| | |
| --- | --- |
| | |
| Another beautiful morning next to the barn | Bob pulled out his restored '34 Ford Coupe for us, look at those suicide doors |
| | |
| Wow! | Thanks for making us feel at home! |
| | |
| Historic downtown Duluth | An old Coke advertisement painted on a wall |
| | |
| The longest boat either of us has ever seen | This was originally a tram type bridge, with the lower driving deck added later |
| | |
| The dunes off of the Minnesota Point | Brian is doing some serious thinking..... hmmmmmmm.. |
| | |
| Brian almost got ran out of Wisconsin taking this picture! | A cool gallery Theresa enjoyed roaming through |
| | |
| Theresa, practicing Tai Chi (or skipping a rock, or something like that...) | Theresa being "pole like" |
| | |
| We appear to have made short order of Wisconsin. | Look at that, "All Fiberglas"! Fiberglas? |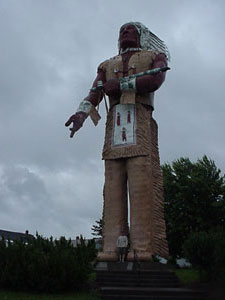 Score! A 52 foot Hiawatha in Ironwood, MI
---
Back To Road Trip Main Page